Some of my wealth management clients like to collect art. Well, one of the hottest trends currently in the art world is photographic art. Watch the morning shows and flip through the pages of any shelter magazine to see examples of arresting imagery of streetscapes, landscapes, portraits and photos of pets.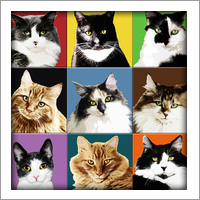 Energy: "Photo art brings in plenty of energy and atmosphere," says digital artist and photographer Kim Curinga in a recent Associated Press article.
Vibe: Curinga, a photographer based in Eight Four, Pa., shot a series of feline portraits, manipulated using digital software to look like pop art. The images have a fun modern art vibe. They appear at kimcuringa.artspan.com.
Color: According to the Associated Press, New Yorker Jen Bekman, who founded 20×200.com, says many people want to sell photo art and many others want to buy it. She recommends that shoppers start with art books to figure out what they like and dislike. Good themes include animals, nature and photos that emphasize color.
NYT: The New York Times recently invited Jonathan Adler, Kelly Wearstler, Thom Felicia, Laura Kirar and Vicente Wolf to explore the paper's photo archives. Their favorites can now be purchased online starting at $199. Felicia's picks include a group of young swimmers on a summer dock. Wolf's group of black-and-white images includes Eddie Hausner's 1950s urban life, Gary Knight's portrait of a geisha, and Todd Heisler's evocative photo of a silhouetted umbrella holder near Central Park's Bethesda Fountain.