The story of Jan and Rich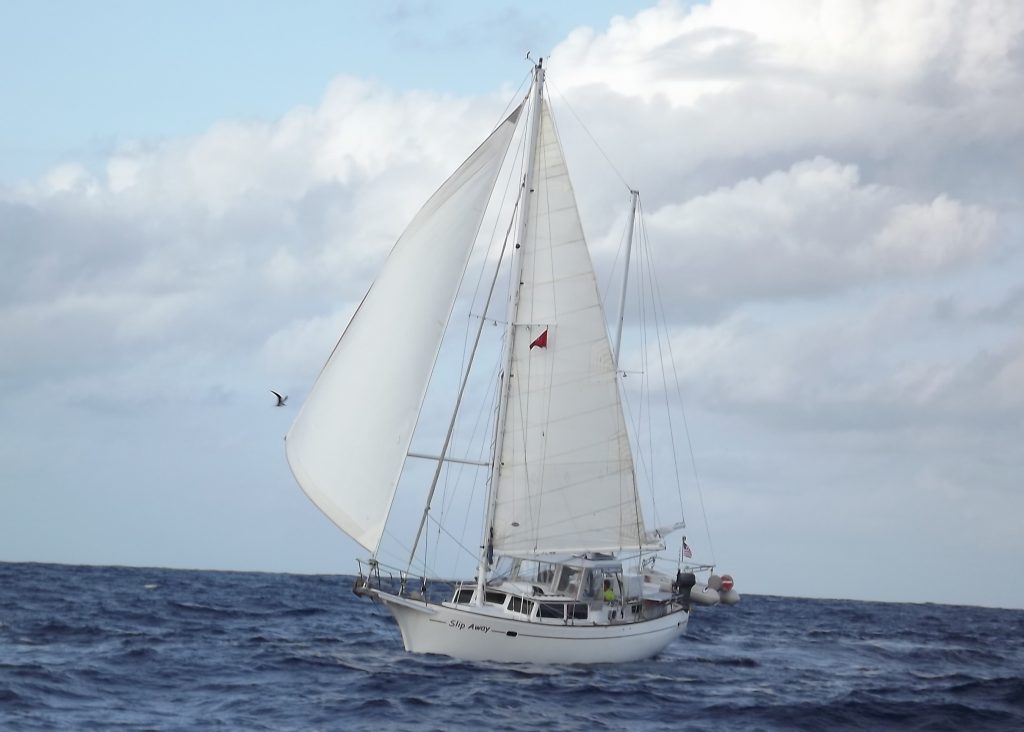 We shall not cease from exploration, and the end of all our exploring will be to arrive where we started and know the place for the first time. — T.S. Eliot
In a previous post, I featured the story of Jan Schwab and Rich Crowell,* who circumnavigated the globe in their boat Slip Away. Jan and Rich sailed a total of 57,000 nautical miles from 2003 to 2019.
It was fun to learn their story in Part 1 of this two-part account. But, we have more questions for Jan and Rich. What are the seas really like? Did they have any close calls due to weather? What are the hidden gems associated with the sailing life? Let's find out.
Adam Hartrum: Give us a sense for the character of the seas you sailed.
Rich Crowell: The South Pacific is magical — the beauty of the islands, the local cultures and the scuba diving. And there are good winds to sail by. The distances between places in the South Pacific are an order of magnitude greater than they are in the Caribbean. To sail overnight to another island in the Caribbean is unusual. But, to do a four- or five-day passage between islands is common in the South Pacific.
Jan Schwab: The South Pacific trade winds were so steady. When we left an anchorage, we would set our sails, and sail away to the next anchorage. We rarely had to motor between islands.
Rich: The Indian Ocean is an ocean I don't want to cross again. It's absolutely rough. If you look at a globe, there's nothing between Antarctica and you to block the seas. The longer the wind blows over the water, the bigger the waves get. We had very good fortune in crossing it, but it was stressful.
Adam: How many times did you cross the Indian Ocean?
Rich: Just once.
Jan and Rich: And that was enough.
Rich: The South Atlantic is probably the best sailing in the world. You have steady but gentle trade winds from behind you all the way up to the equator, and the seas are mild. It's just delightful sailing.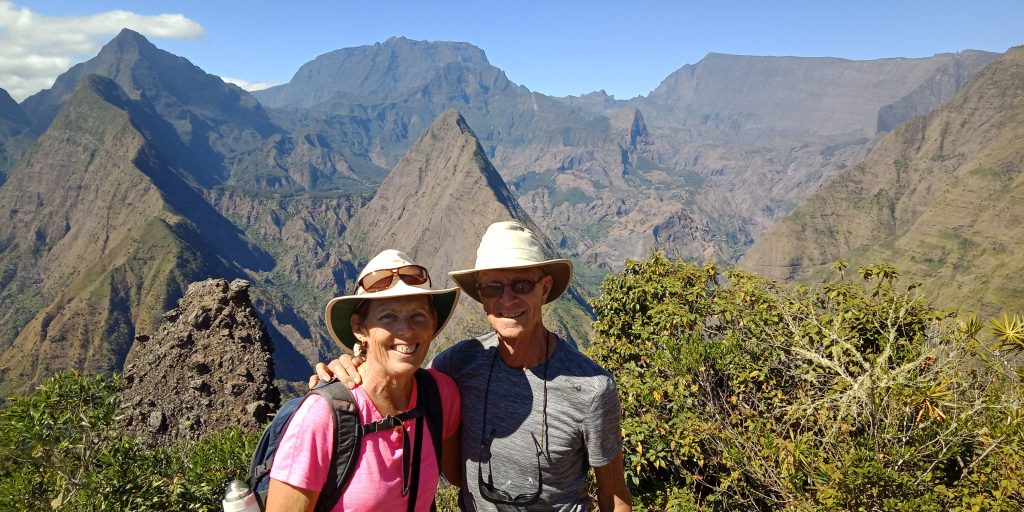 Adam: In Part 1 of your story, you mentioned Fatu-Hiva as a standout place you visited. How about naming more of your favorite places?
Rich: Réunion island. It's somewhere up close to Fatu-Hiva as being one of the most beautiful places on Earth that we've been to. There are three dormant volcano calderas, called cirques. They're extremely rugged, but completely carpeted in green. On one end of the island, there's an active volcanic area, and it's a barren moonscape.
Réunion is just a beautiful, beautiful place, and it has the advantage of having French pastries as well.
Jan: New Zealand was also one of our favorite places. We spent three summers there, traveled by car on both islands and sailed the northern part. The landscapes are beautiful, and the people are great. And the Komodo National Park in Indonesia stands out as our favorite place for scuba diving. We saw sea life there – pygmy seahorses, frog fishes, leafy scorpion fishes – that we've never seen anywhere else.
Transiting the Panama Canal was also a fantastic experience. We took our boat through the Panama Canal two times. We brought it from the Pacific Ocean to the Caribbean in 2007. Then in 2010, we went back through from the Caribbean to the Pacific. It was astounding to see how they transit these big ships.
Rich: You have line handlers when you go through. You can hire them, but typically what most cruisers do is they take turns crewing on other people's boats. That's doubly good because you can get the experience, plus it's free help from folks who know boats. We wanted the experience to see what it was like before taking our own boat through. In total, I did five transits, and Jan did four. And you see ships from all over the world going through there.
Just as we're getting the anchor aboard, the storm hit us with full force, and I couldn't see where we were going.
Adam: Did you have any close calls?
Rich: We were halfway between Bora Bora and Suwarrow, which is a 700-mile passage. At midnight there was this loud bang. We were getting ready for a watch change, so we were both awake. Jan immediately ran below to see if there was any water coming in – maybe we hit something. We've read that over 1,000 shipping containers fall off cargo ships every year, and they can sometimes float just below the surface before sinking, so you can't see them.
But everything seemed to be OK down below. We needed to do a sail change, and I clipped my safety harness on to the safety lines on the boat so I could go up to the foredeck. As I moved forward, I grabbed one of the stays – wires that hold the main mast up. It was shaking in my hand, totally loose. One of the chain plates — the metal straps bolted to the boat that the stays attach to — had broken off. We were in danger of our mast falling.
I completely lost all the saliva in my mouth and couldn't talk. Immediately, I went into "MacGyver mode" and was able to secure it to a pad eye on the deck. So, we were okay.
We continued to Suwarrow atoll, and subsequently diverted to American Samoa. We thought we might be able to get some help there, and we did. We found a place to make a new chain plate for us.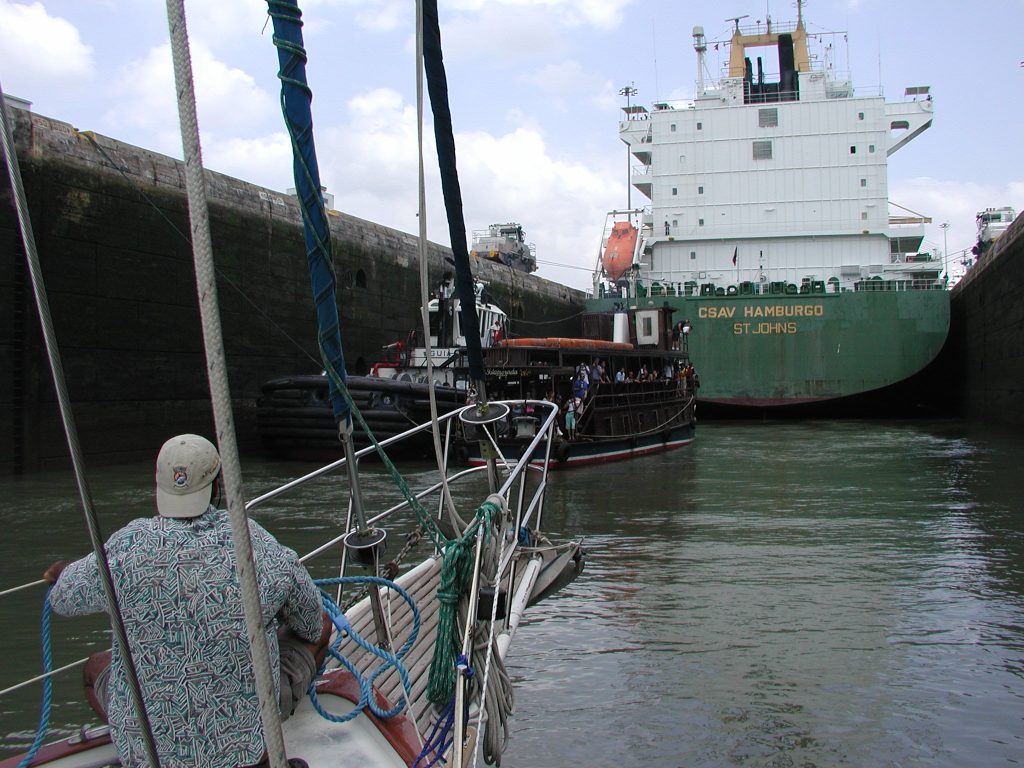 Adam: That was a close call indeed.
Jan: One time in Panama we ran aground during a storm. We saw the storm coming in, and we were debating whether we should stay in the anchorage or leave. It was early morning, and we had just woken up. We decided to leave, but just as we're getting the anchor aboard, the storm hit us with full force, and I couldn't see where we were going. I thought we were still going straight ahead and away from the anchorage, but the wind had turned us sideways, and we ran aground. Fortunately, we hit sand because a reef could have put a hole in the boat. Once the storm abated a bit, we were able to back off the beach and navigate into deeper water, but that really shook us both up.
Rich: We had another storm off Mozambique that surprised us. It was the strangest weather. The sky was getting grayer and grayer and heavier and heavier, and we were getting nervous. We thought we'd better get our sails down and rolled up, and we were halfway through that when suddenly strong winds over 40 mph hit. We had trouble getting the boat under control, but finally did. It only lasted maybe a half hour, but it was scary.
Jan: Fortunately, we had only a few truly scary experiences in all those years.
Adam: As weather patterns change, is it getting more dangerous to sail?
Rich: It's getting more challenging.
Jan: But there is much better weather forecasting today than when we started. When we left L.A. in 2003, there were no smartphones. There were no iPads, no weather apps. There are better tools now than there were before. The weather is trickier than it used to be, but I think it's manageable.
Rich: One of the keys is staying out of hurricane zones when it's the hurricane season. For example, we would never be in the Caribbean in the summertime.
Adam: Is the sailing lifestyle for just anyone?
Rich: You must be rather adaptable and self-sufficient. If you're the kind of person that needs to call somebody else when something breaks, you're going to struggle. I grew up on a farm, so had the luxury of learning how to fix things at a young age. Plus, I was an Aviation Electrician in the U.S. Navy, which helped a lot.
Boats require a lot of TLC. Equipment seems to break down constantly. We knew a number of people who quit because of all the repairs and the work needed to maintain the boat. Although we felt we had comfortable living accommodations on Slip Away, it was not luxurious. I won't say it's always a physically demanding lifestyle, but it can be at times. It's not all cocktails and sunsets.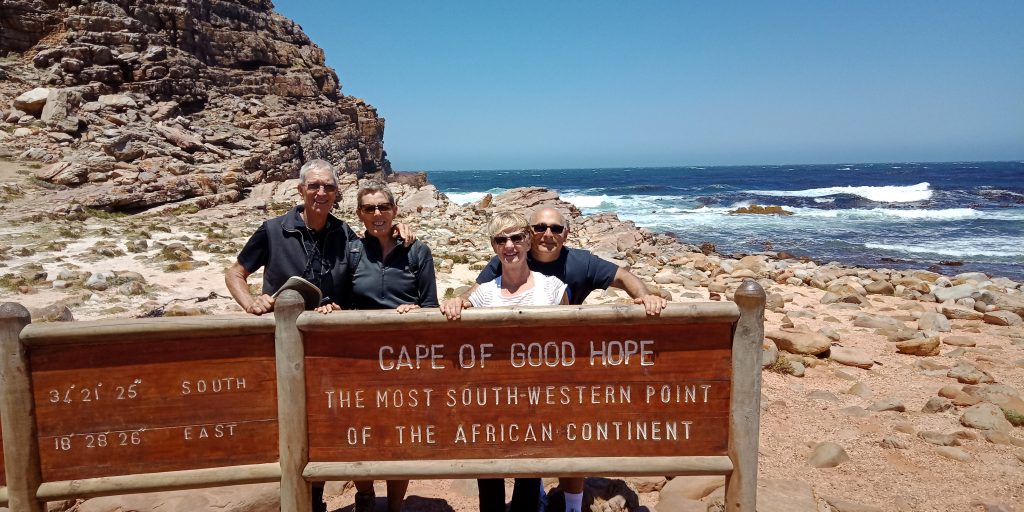 Adam: Didn't you run into Larry Bakerjian and his wife, Rox, in South Africa?
Rich: Yes. We made plans to meet them in Cape Town in December 2018. We sailed to South Africa from Madagascar and were waiting on the east coast for a weather window to sail around the bottom of the continent to meet up with them. But the weather was not cooperating, and it became clear to us that if we tried to sail there, we might not make it in time. Missing them was not an option, so we ended up leaving the boat in a marina in Durban and flew to Cape Town.
Jan and I rented an Airbnb in Cape Town — a room in this guy's beautiful house that overlooked the waterfront, and it was within walking distance to Larry and Rox's hotel. The host, Clyde, was super and became a good friend. He invited us to his New Year's Eve party, and we attended with Larry and Rox. It was such a wonderful evening, because the four of us got to spend hours talking with his eclectic group of friends about South Africa.
Jan: South Africa was a favorite of ours. It's a big country with incredible wildlife and beautiful landscapes. It's also a troubled country, and the problems there are very complex. But South Africa has a special place in our hearts, because we had wonderful experiences and met great people there — both blacks and whites who are now our friends.
It didn't matter if you had a little boat or a big boat. We all were sharing the same anchorage and were friends.
Adam: What surprised you most about your 16 years at sea?
Rich: The biggest surprise to us, something we didn't anticipate and was for us the richest thing about sailing, was the community of sailors. I have never been in a group of people that bonded so closely and so deeply in such a short time. We now have friends from all over the world. It's absolutely special.
Adam: Sounds like people who don't project airs.
Rich: That's a big part of it. And here's another thought. When you make new friends as a land dweller, you meet somebody, find them interesting and make arrangements to go out to dinner. Maybe, a month later, you do it again. In all, you have four hours together.
Cruising is very different. You pull into an anchorage. You meet people. You start talking. You plan the next day and spend the entire day together. You go snorkeling and diving. You go grocery shopping. You share cabs. You do all this stuff together for eight or 10 hours a day. You spend a year's worth of time in a week compared to what you spend as a land dweller.
Jan: Our community was such a wide variety of people. We met people of all ages, including people in their 20s and 30s taking a few years off work to circumnavigate or sail across the Pacific. At the beginning, when we were ages 45 and 54, we were younger than most, but toward the end we were the old salts. People came from all walks of life — doctors, nurses, lawyers, farmers, police officers, teachers, plumbers and electricians.
Rich: On land, our friends did not have the variety of backgrounds like those we met on the water. Plus, it was also a very international community with cruisers coming from many European countries, Australia, New Zealand, South Africa, Canada and Mexico, as well as the U.S.
Jan: And it didn't matter what you did for work or if you had a little boat or a big boat. We all were sharing the same anchorage and were friends.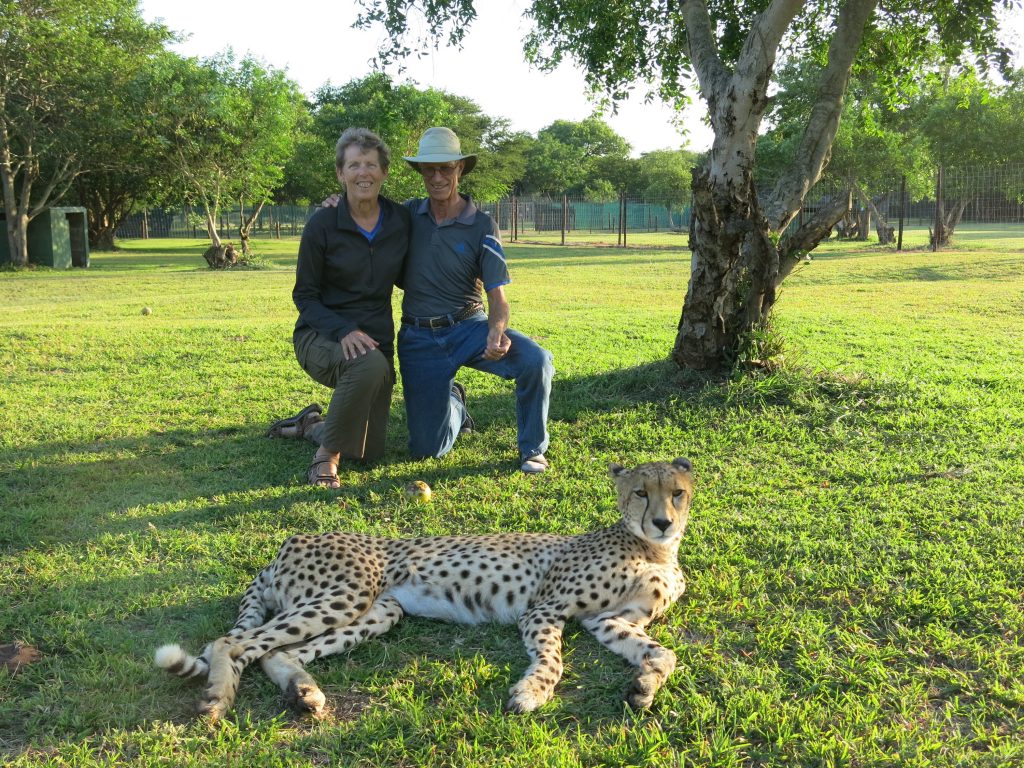 Adam: How has your 16-year experience of sailing changed your perspective and your priorities in life?
Rich: It has made us more sensitive to the harshness we see today. Since we've been back, we've been troubled to see people so polarized. We experienced just the opposite on our journey.
Jan: And having seen many countries makes us appreciative of everything we have. Americans have not only financial wealth, but also opportunities that most others in this world don't have.
Rich: It also reinforced our belief that one's "stuff" has little bearing on your happiness, assuming you have enough to eat and provide shelter. People are happy around the world with very little. Nicaragua was an example of that. The little kids there didn't even have clothes, yet they were running around having a great time.
Jan: And, honestly, although we've been back two years, we're still finding our way.
Adam: What do you mean by that?
Jan: When we finished our circumnavigation and sold the boat in 2019, we had plans to continue traveling – flying to places we didn't visit by boat, like Europe. But, of course, COVID-19 threw a wrench into those plans. We have not yet set down roots, but we're now starting to think seriously about doing that. And although we still hope to travel again internationally, we're also thinking about getting involved in things that made an impression on us during our time at sea.
Adam: Such as what?
Jan: The whole issue of the fragility of the earth – the plastic waste we saw in the oceans, the damage to the reefs from warming sea temperatures.
Rich: The declining fish population. We noticed in 16 years that the fishing was not as good at the end as it was at the start.
Adam: You didn't create those problems.
Rich: That's correct. And living on a boat lends itself to minimizing one's carbon footprint. For the most part, we didn't use heat or air conditioning, and we didn't have a car. Our diesel and gas consumption were pretty low.
Jan: We had solar panels to charge the batteries that powered the boat's systems. Some other sailors had wind generators. And, whenever possible, we used the power of the wind by sailing from place to place.
Adam: Has your experience changed how you treat people?
Rich: We feel like we always did treat people with respect. Our travels made that more of a visceral part of ourselves.
Jan: When I look at my list of Facebook friends, there's the guy who painted our boat in Cartagena, the ladies who worked in the marina office in Malaysia, the guy we stayed with in South Africa, and many more people we met along the way. It warms our hearts to know we made friends around the world.
Rich: It adds a significant amount of richness to our lives.
Jan: I sometimes get choked up just trying to describe to people what an incredible life experience this was.
Rich: I guess our fundamental priorities haven't changed. We always liked to be considerate of others – open and interested to the different ways people live. In that sense, we hope we created some goodwill internationally.
Learn more about Jan and Rich's journey on their website slipaway.net.
* The clients featured in this post voluntarily participated in sharing their story. They were chosen at random and not based on previous client experience or performance-based criteria. It is not known whether the clients appearing here approve of LPL Financial or the advisory services provided.