Clients know I love Formula One racing. They also know I believe it's important to have a smart wealth management plan and to stick to it. So, there's the tie-in between Finance and Formula One: Set one's course; stay on track.
And speaking of tracks, let's talk about three of the classics.
The 2014 F1 Belgian Grand Prix was just run this past Sunday, August 24th. The Italian F1 Grand Prix is in September, and the Japanese F1 Grand Prix is in October. Three classic races, each with storied histories and a special track they call home. Those F1 tracks are:
Spa in Belgium
Monza in Italy
Suzuka in Japan
Spa — Extraordinary Location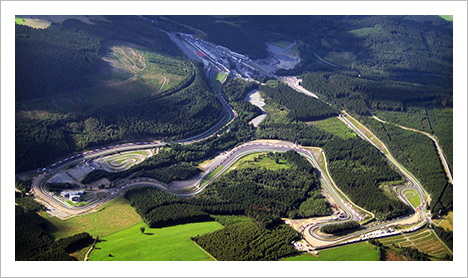 Belgium has a long history of Formula One racing. The Circuit Spa-Francorchamps in Stavelot, Belgium, goes back to the 1920s. Known simply as Spa, the track was built in 1921 and first raced on in 1922. The Belgian Grand Prix at Spa began in 1925. I visited the track in 1996 and was blown away by its majesty.
Like most F1 circuits, Spa has changed since its earliest races. But the character of the place — its vibe, competition, fun-appeal — remains the same. Located in the forests of the Ardennes, site of the World War II's "Battle of the Bulge," Spa is simply awesome.
The Ardennes has constantly changing weather patterns, which can alter course conditions at a moment's notice. I've seen it pouring rain in one part of Spa while the sun shines on the other side of the track two miles away. This makes for unpredictable, but fascinating F1 racing.
I've never liked race courses that are flat and featureless, and Spa has none of that. Spa has variety — terrain changes, tight corners, sweeping corners, straight-aways — and a magic all its own. When just one car is on track you can hear its engine echoing amongst the trees and its gear box shifting as the car goes up hills, around corners and down straights.
Spa has one of the most famous corners in all of F1 racing. It's called Eau Rouge, which in French means "red water." I'm told the name has to do with reddish-colored springs located in that area of the Ardennes. Eau Rouge is a down hill, right-hander. Drivers whip their cars through the turn in excess of 180 mph, sometimes wheel to wheel with another car. It's exhilarating to watch cars corner at those speeds. Take a moment and look at Eau Rouge.
Seeing F1 cars race at Spa was one of the most thrilling moments of my life. I wish I could make it to Belgium more often. Maybe you'll get to see it one day.
Monza — Energetic Fans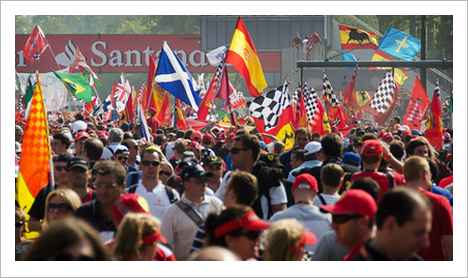 Like Spa, the Autodromo Nazionale Monza near the city of Monza, north of Milan, Italy, was built in the 1920s. The Formula One Italian Grand Prix has been hosted here since the sport's inception.
Monza is a classic. The race speeds are impressive. The fans? True fanatics — and nutty to boot. Visit the Italian Grand Prix and you'll see fans hanging from trees and billboards along the raceway. Italy is home to the Ferrari team and the entire country seems to shut down for Grand Prix so people have time to cheer Ferrari on. The atmosphere at Monza is mind-blowing and full of energy.
Monza is a "low, down-force track." That means F1 racing teams trim the wings on their cars so that the cars can attain very high speeds along Monza's long straightaways. Racing is often a compromise. You can load a car up with downforce so that you're fast in the curves, but that slows you as the car goes straight. Or, you can trim downforce off so that you're fast in a straight line, but then you'll be slower in the curves. Picture yourself driving your car with the window down and your hand out the window. If you keep your hand perpendicular to the ground, you catch air and create resistance that pushes back on your hand. Turn your hand sideways, and air passes over it easily. Same with F1 machines. At Monza the cars are at full throttle for most of the course due to its long straights, reaching speeds of 210 mph in last year's race.
F1 cars are the fastest road machines on the planet, and drivers turn them loose at Monza. I hope to see it in person someday.
Suzuka — Great Curves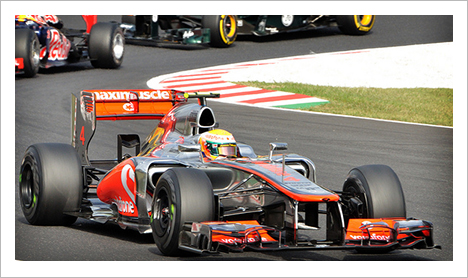 The Japanese are some of the most avid F1 fans on the planet and Japan itself has a long history in F1. Aryton Senna, a legendary F1 driver, counted his Japanese fan base second only to those of his native Brazil. The Suzuka International Racing Course in Ino, Suzuka City, Mie Prefecture, has everything to do with Japan's racing heritage.
Designed in 1962, Suzuka was originally a Honda test track. Suzuka is one of few circuits in the world to have a "figure 8" layout. One straight-away passes over another by means of an overpass, which requires having an elevation for the crossover. In fact, Suzuka has a variety of elevation changes over its course and a series of corners known as much for their speed as their variety.
One of its famous corners is called 130R. It's a 130-meter radius turn starting past the crossover. Over the years, drivers have whipped through 130R so fast that officials decided to modify the turn for better safety. They made it, in effect, two turns — an 85 meter radius followed immediately by a 340-meter radius. Cars still speed through 130R at very high speed, and it's exciting to watch.
Suzuka is about elevations, turns and driving skill. I'd love to make the trip, and maybe one day I will.
Other F1 tracks
F1 Racing has many new tracks on its schedule, including places such as Bahrain and Abu Dhabi.
But many of the new tracks are often featureless and antiseptic. They have too many straight-aways and not enough contours and character to make them reward driving skill. Other tracks, such as Monaco, are more famous than they are interesting. Tracks such as Germany's Nürburgring have been over-redesigned, and have become bland and have lost their luster.
For me, Spa, Monza and Suzuka are true classics. It's an exciting time of year to have them coming up!
Your "track" comes first
I hope you have been having a good summer. I'd love to hear from you about things you've done and the sights you've seen.
Also, please call my office if you need help with your wealth management plan or would like to discuss your progress. The markets are constantly changing, and sometimes they make investors nervous. Remember, if you've been working with a qualified advisor and have put together a smart wealth management plan, you'll want to stick to that plan by staying on track.
Photographs licensed under Creative Commons Attribution-ShareAlike 4.0 International (CC BY-SA 4.0).