There's an old adage that says nothing is as constant as change. All we have to do to prove that is look around.
Ten or 15 years ago, you'd talk to a person when you phoned a company. Now, you use your phone to navigate through an automated service menu, interacting with a computer (except when you call my office). You can only hope to speak with someone, and then it might be someone in India.speedometer
And when was the last time you used a paper map to find where you were going? Smart phone map applications and built-in GPS units in our automobiles are all too common.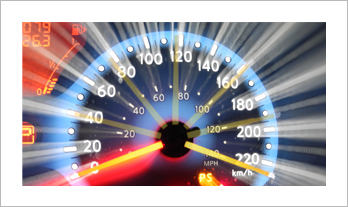 The investing world has change, requiring adjustments to breaking, steering and applying the gas in one's portfolio. Like I said, nothing is as constant as change.
Investing has changed
Change has certainly come to the business of investing. For the first 30 years of my career, investment planning saw little change. Back then, it was business as usual. You'd build a diversified portfolio using a variety of investments, each making up a slice of your investment pie. Domestic equities provided the opportunity for growth via American companies. Foreign equities served as a portfolio counterbalance, often doing well when the domestic equities struggled, and vice versa. Bond securities offered portfolio stability.
Today, portfolio management is not as clear cut. As technology has caused the investing world to shrink — as more people in more places have gained access to the same or similar investment products — yesterday's investment strategies have, in my opinion, become less effective.
For example, there used to be a real disconnect between domestic stock funds and foreign stock funds. Thirty years ago, even 20 years ago, the economies and financial markets of different countries were not so tied together — one country's with another's — as they are today. The effect has narrowed the performance of funds based here and those abroad, because various economies now tend to function in tandem. The saying today is that when America sneezes the rest of the world catches a cold.
Search for complementary strategies
In early 2006, I began to look at the issue of the interconnectivity of today's global investment markets. I searched for alternatives to building portfolios the way they had been constructed in the past.
I didn't want to abandon the investment planning and wealth management strategies I had provided my clients, because in certain conditions they still worked. Far from it. I wanted new options to complement traditional portfolio planning.
As a result, I brought new investment management ideas and strategies into my practice. To illustrate, think of driving your car. There are three things you can't do without:
The gas pedal
The steering wheel
The brake pedal
One makes you go. One guides where you go. One slows you down at the right time.
Similar strategies have come to play in the investment world:
1. The Investing "Gas Pedal"
The traditional way of being invested through up and down market swings is the gas pedal. Historically, being invested over time has been the biggest driver of returns. But it has also been the bumpiest ride.
Change: Today, strategic money managers can use available market data to identify investment opportunities, while attempting to minimize downside risk. I think we know a lot more about risk today than we did at the beginning of my career. Sure, nothing is foolproof when it comes to investing, but I now often recommend strategies that apply the proverbial investment "gas pedal" while also taking into account risk for the given individual.
2. The Investing "Steering Wheel"
A steering wheel allows flexibility. It means part of your portfolio can adjust to changing market conditions.
Change: You don't have to just grit your teeth and ride through market ups and downs. Here, the idea of "steering" with regard to your investments means that portfolios should be reviewed, and possibly revised, more frequently than they used to be. I don't mean to imply that you can steer clear of all investment danger, but I think it's possible to be better informed today. The key is to work with a qualified advisor and a management firm that takes current market conditions into consideration.
3. The Investing "Brake Pedal"
I think of "braking" as making tailored adjustments to your portfolio based on your age, changes in your goals and objectives and new lifestyle needs, helping to minimize investment volatility when doing so is important.
Change: The change today is simply to use the investment "brake pedal," where as in times past it wasn't used so much. Brake pedal strategies slow things down when the going gets rough. That makes it easier to ride the ups and downs.
Together, the new strategies combine with the old ones to provide the sort of diversification that was easier to achieve, as my son says, "back in the day." Yes, investment strategies are always moving and changing. Let's talk about how we may be able to use today's newest ideas to help your portfolio.
Diversification seeks to reduce the volatility of a portfolio by investing in a variety of asset classes. Neither asset allocation nor diversification guarantee against market loss or greater or more consistent returns. This material is for general informational purposes only and should not be considered a recommendation to buy or sell any security, nor a specific investment strategy. Securities America and its representatives do not provide tax or legal advice. Readers should consult their tax advisor, or legal counsel, for advice concerning their particular situation.