Every now and then something interesting shows up in the news that catches my eye. One of those things was a report, issued several weeks ago, released by the General Accountability Office.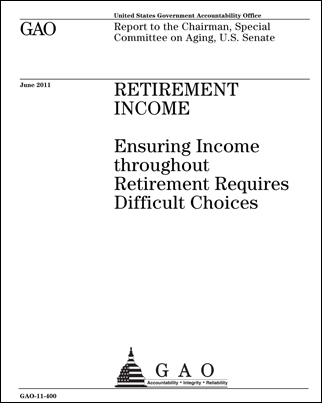 The GAO's purpose is to report to Congress and the President on the financial condition and issues facing the country. The particular report I'm referring to is entitled Ensuring Income throughout Retirement Requires Difficult Choices. It discusses challenges facing retirees or those preparing for retirement.
One of the notable conclusions the report draws is that annuities can play a valuable role for many retirees. It notes that annuities, unlike most types of investments, can provide income guarantees. (See my related post: 3 things you may not know about variable annuities.)
The report also discusses the fact that as life expectancy increases, the risk that retirees will outlive their assets is becoming a growing challenge. Certainly the ups and downs of the markets over the past several years have only added to that challenge.
It was interesting to see that the GAO believes that annuities can play a valuable role in planning for income streams for many retirees. That dovetails with my own thinking over the last several years.
It's important to note that the decision of whether to use an annuity is a major one and should be taken only after careful consideration of your individual circumstances, objectives and other options. It's a conversation we may have already had or that we may want to hold in the future.
Annuities are long-term investments designed for retirement purposes. Withdrawals of taxable amounts are subject to income tax and, if taken prior to age 59½, a 10% federal tax penalty may apply. Early withdrawals may be subject to withdrawal charges. An investment in the securities underlying an annuity involves investment risk, including possible loss of principal. The contract, when redeemed, may be worth more or less than the original investment.
Investors should carefully consider a variable annuity's risks, charges, limitations, and expenses, as well as the risks, charges, expenses, and investment objectives of the underlying investment options. This and other information is provided in the product and underlying fund prospectuses. Please contact the annuity company or your advisor to obtain a copy of these prospectuses. Read them carefully before investing.